10 Romantic DIY Valentines for the Man in Your Life
Low Cost Romantic Gifts for the Man You Love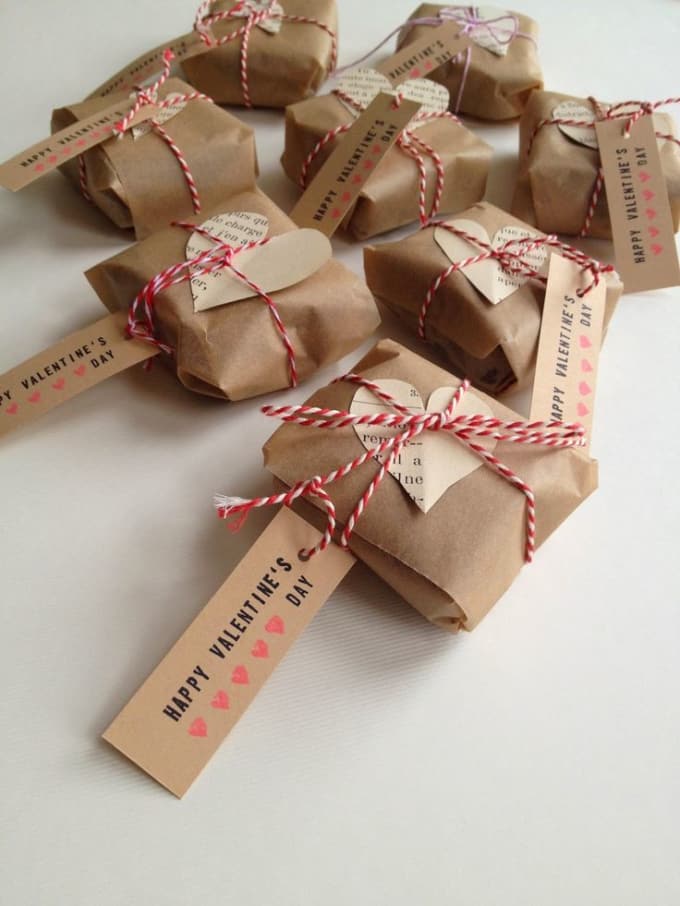 1.) "Open When" Letters
This is a pretty amazing gift that has gained popularity over the years. You take envelopes and decorate them. Each one should have "Open When" and then something following it, such as "You're sad or "You're Hungry" or "You miss me." Some people decide to include gift cards or money in ones that have to do with hunger or boredom, but they don't have to. They could just be heartfelt notes, letters, or a letter with a recipe.

2.) DIY Scratch Cards
What you'll need:

Stock or Card Paper

A White Crayon

Acrylic Paint

Sharpie

Dish Soap

Draw or print out an outline or card and inside each small outline (such as hearts) write something such as "scratch again, free massage, free dinner of your choice," whatever you'd like. Get creative! Then color over the prize with a white crayon. Mix one tbsp of acrylic paint with one tbsp dish soap, light and carefully paint a thin but evenly-coated layer of the paint within the outline, but over the prize message. Then allow it to dry overnight. You should now have a DIY Valentine's Day scratch card!
3.) Movie Night In
What You'll Need:
Microwave Popcorn

A Movie Or Redbox gift certificate

Two Small Ben And Jerrys

Individual Milk or Sodas

Put the popcorn, movie or certificate, two bowls, and the ice cream out on the table before you're ready to sit down and watch something. Curl up together and enjoy each other's company for the night while enjoying a good laugh or cry together.
4.) Mancake
What you'll need:
Clean Cardboard

Drinks of choice

Candy

Other extras you want to include

Get your man's favorite drink in a six or 12 pack. Get an empty clean cardboard box and cut a circle large enough to fit six drinks, or do two circles if there's 12 layers to look like a cake and attach candy, lottery tickets, boxers, gloves, or something that you know your man likes. Don't forget the note that says "I love you" or "Happy Valentine's Day!"
5.) Adventure Memories
What You'll Need:

A photo frame or shadow box

Maps of places (you can always print off google maps)

Heart Stencil or Printed Stencil from the internet

Mini Clothes-pins or thumbtacks (most craft stores have these)

Gather maps from places you've been together and pick five places, such as where you met, your first date, first injury, first kiss, favorite trip together. Cut the maps/places into hearts and tack or glue to the photo frame backing. Leave one spot open for "the future," put tags above each photo, and then place inside the frame. Wrap and give to your Valentine with a card.
6.) Valentine's Starry Night Picnic
With today's technology, chances are you have some sort device that can play videos remotely, whether it's your phone, a DVD player, or laptop. Pick and pre-download a movie or a couple shoes for you and your other half. Pack a cute but small picnic and go on an adventure. Find some place secluded but safe to park air up your backseat mattress, which can be found here. Or, if you have a truck, fill it with blankets and pillows, watch the stars, your movie, and have a picnic together
7.) Kisses in an Envelope
What You'll Need:
Your Favorite lipstick or lipsticks

Makeup wipes(if doing more than one color)

White Paper

Black Pen

Envelope: either plain or pre-decorated
Decorate your envelope if it isn't already decorated. Apply your lipstick and make kiss prints on the paper. Make sure to leave spaces so they can be cut out. Repeat until you have 10-20 kisses. You can change colors of lipstick, if you desire.
On the back of each kiss, write a cute note like "Because I love you," "For being so sweet," "For being my valentine," etc.
You have the option of taking them to be laminated. However, clear packing tape or just leaving them uncovered works just as well. Add kisses to the envelope and, on the front, write "Kisses from me to you."
8.) Fishing for Love
What You'll Need:
A cheap tackle box or jewelry bead organizer

Swedish Fish

Sour worms

Jelly beans

Gummy bears

Fill the different compartments with your candies, seal it up, wrap it, and include a card that says "Hooked on you since—Enter date you started dating—"
Sign "with Love" or "Happy Valentine's Day—Your name here—"
9.) All Your Senses Gift
Five Gift Bags or Envelopes (depends on what you get)

You will be buying or creating five gifts for this one, but each gift should be moderately priced and doesn't have to break the bank.
Include a card that says "I love you with all my senses."
Label your first envelope or gift bag with "Taste." You can include their favorite candy, a gift card, or something a little more wild, like flavored lube.
For the sense, See, you can buy some one dollar scratch cards or make your own from the directions in this article.
For Smell, you can get cologne samples or a lotion, or a full-sized bottle (a nice, affordable cologne is Nautica Blue, commonly found for as little as $9).
For Touch, you can buy or put one of your lingerie pieces in a bag. If your relationship isn't to that point of intimacy, you can include gloves, a beard, oil, or body wash.
For Hearing, include a mixed CD or headphones. You can get decent headphones at most gas stations, Fred Meyers, or online for under $5-$10.
10.) Check out this passport to love from the Dating Divas!