3 Ways Memories Can Transform Your House Into a Home
How to Incorporate Portraits, Memories, and Antiques to Give Your Brand New House a Cozy Feel...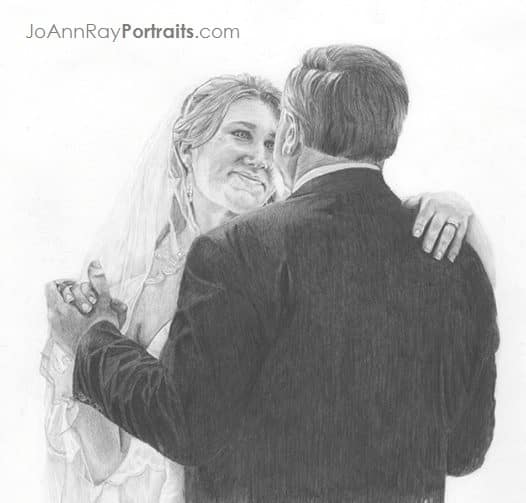 Trying to bring more character to your home?
Here are three fantastic ways to transform your decor with personal touches that make your house feel like home.
1. Create an air of nostalgia and warmth on your walls—Commission a portrait that captures your family stories.
Why hire an artist when you can pose for a photographer? Chattanooga portrait Master JoAnn Ray explains how she chases a story when rendering family portraits. "Rather than a stoic pose of a boring mug shot, I focus on the memories. I want to tell each family's story."
In one of her latest graphite pieces, JoAnn depicts the happy tears in a young bride's eyes as she dances with her father. "She was madly in love with her young man," JoAnn shares the story behind the masterpiece. "But her father did not approve because no one seemed good enough for his first daughter, and that's why the tears are shining in her eyes as they dance at the wedding. Her daddy finally realized that the young man really was the perfect husband for his little girl." The portrait is titled, "I Loved You First."
You can see more of JoAnn Ray's story portraits here.
2. Create a special memory while crafting personalized pieces with your loved ones. Plan a family field trip or an unforgettable date night.
Another fabulous way to bring personality to your decor is to make one-of-a-kind pieces and amazing memories yourself.
Plan a family outing or a creative date to immerse your hands in paint or clay, then bring home a special canvas or bowl you created that complements your interiors and, even more importantly, takes you back to that precious quality time together with your kids and/or your spouse.
Here are some popular creative outings:
Paint your own ceramics at a paint and bake store

Attend a wine and paint party - grownups only!

Visit a wood shop class at your local hardware store

Sign up for pottery classes at a studio in your town

Build memories you'll treasure forever at a paint party and take home colorful art to hang in your house.
3. Introduce elegance and history to your decor. Hire an art conservator to restore grandmother's cracked sculpture.
Are you the fortunate recipient of a family heirloom, but don't know what to do with the dirty oil painting of your 19th century ancestor?
That's where art conservators step in, to repair and clean paintings and sculptures or even fix broken frames. Look for a trusted art restoration company in your area. Even if you believe a crumpled, rolled up painting is a lost cause, a good conservator can examine the piece and provide potential ways to restore it to its past glory.
Heirloom pieces of furniture and jewelry can also benefit from an expert's hand.
There is nothing richer than decorating your modern home with significant portraits from the past that you have a personal connection with, and you'll enjoy explaining the stories behind these antiques at dinner parties and other gatherings in your home.
Bonus tip: Don't have any family paintings passed down to you? Contact your local antique dealer or visit an auction house to find old portraits that strike a chord with you and would complement your decor. You can ask for the background on the painting or sculpture and incorporate that piece of history into your home's story.