Best Gifts for Anyone Who Loves Organizing
The best gifts for anyone who loves organizing that will make their lives that much easier.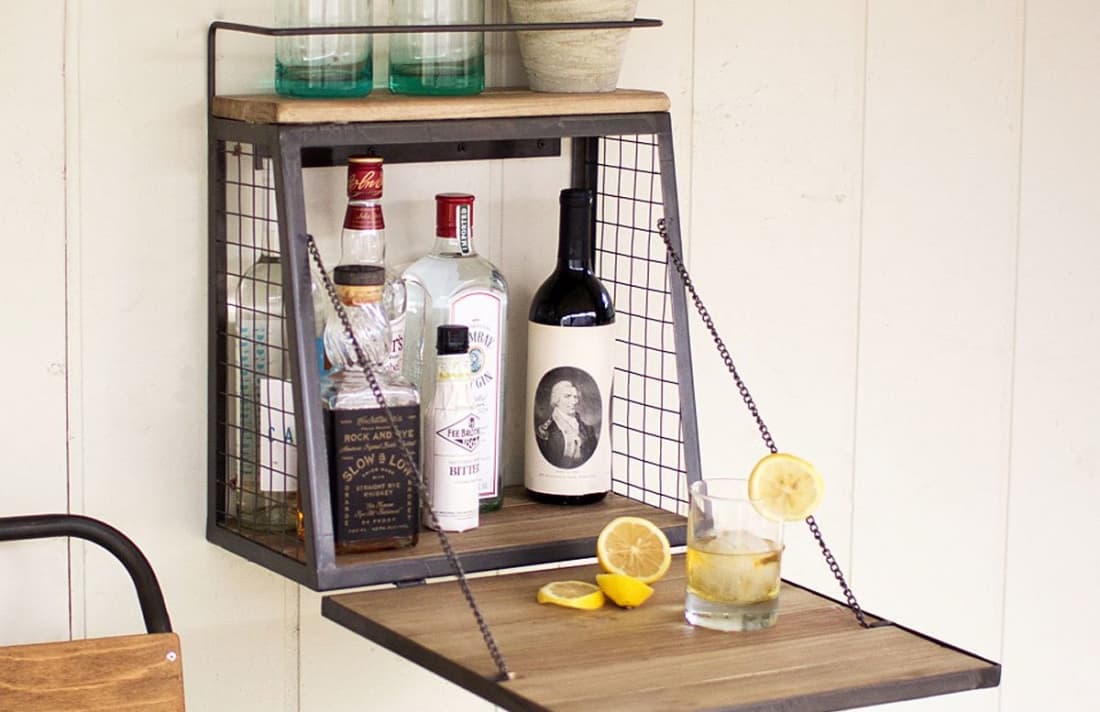 We all have people in our lives who take pride in their organizational skills. That's why gifting them with supplies to aid this obsession can often be a hit. We have created a list of the top gifts for anyone who loves organizing that step outside of the box.

Instead of gifting drawer organizers or key holders, this gift guide is filled to the brim with brand new ways to organize that your friend would have never thought of. From a hanging cocktail bar to floating shelves, there is a present here for everyone.
Trigem Tabletop Jewelry Stand by Urban Outfitters
Every jewelry owner knows the nightmare that is tangled necklaces. But often times, we forget that there are tools to prevent this. That's why this tabletop jewelry stand is one of the best gifts for anyone who loves organizing.
As a classy and beautiful piece, it will look great on any vanity, and can hold a ton of pieces. With places for necklaces, bracelets, rings, and more, this product will be a lifesaver for any jewelry wearer.

Fire Escape Shelf by Uncommon Goods
Organizers are always looking for the next best thing when it comes to storage. Storage that doubles as a furniture piece or home decor are perfect because they don't stick out like sore thumbs, look clean and organized, and serve multiple functions.
That's why this shelf unit is the perfect addition to any home, as it looks great, unique, and is very versatile. Store your potted plants, books, candles, photographs, art, really anything on this cool new approach at shelving. We can promise your friend will never have thought to buy this themselves.
Uprise Monitor Riser by Gwen Weinberg
As one of the best gifts for anyone who loves organizing, this Monitor Riser serves as both a space saver and a desktop organizer.
Designed to lift your desktop and provide two tiers of organization, the design is simple and sleek, and has plenty of extra space to store your desk-side necessities, without taking over your keyboard.
It can also be flipped and mounted on the wall! This way it would serve as a mail sorter or a caddy. What better of a gift could you give?

iPhone X Black Leather Folio Case by Apple
As one of the most simple gifts for anyone who loves organizing, but one that will be extremely helpful in day-to-day life, is this Apple Folio Case. This case can hold multiple cards, bills, notes, and even some cash.
Never worry about if you have your credit card on you again with a present like this. Plus, it is created with a soft microfiber lining for ample protection of your device and your belongings. As a simple, yet ground-breaking tool, every organizer should own a wall-case like this.

BottleLoft by Uncommon Goods
We can guess that even your most organized friend does not own this. BottleLoft is a simple magnetic strip that holds bottles in your fridge to create more space! As a completely safe way to store all of your beers, the strip is made of neodymium magnets of two strips, enough to secure a six pack.
This keeps your beverages in a super-handy space, as well as opens up extra storage for all of the rest of your refrigerator necessities. Never take up half of a shelf with your beers again.
Hanging Cocktail Bar by Uncommon Goods
With alcohol in mind, this is another one of the best gifts for anyone who loves organizing that also enjoys a drink or two. As a hanging cocktail bar, space taken up by a bar cart will be diminished.
Plus, it looks super cool and is extremely accessible. The fold-down shelf serves as a mixing station. And the display area is meant for your best-looking bottles and tools.

Over the Door Storage Pockets by KINGREE
If you're going to gift over the door storage units, you have to make sure that they are adding to the aesthetic of the room.
This one in particular is great because it looks clean, simple, and just like any other piece of furniture. The large pockets are made for magazines, keys, phones, cosmetics, really anything that needs to be put away that might not have a designated spot.
As one of the best gifts for anyone who loves organizing, this storage unit doesn't look bulky and won't clash with the rest of the room. There are even options for different colors or designs to match your decor. For less than $10, it's one of the cheapest ways to organize an apartment.
Invisible Book Shelf by Urban Outfitters
A floating shelf is a classic organizational product, but this is one of the best gifts for anyone who loves organizing because it will blend right into what you're looking to organize.
The tool is shaped like a book, and will hold any of your favorite books to eliminate the need for a bookshelf. As a simple, yet adorable way to stay organized, forget about the bulkiness of any other book storage and display your favorite. This way, you can't go wrong.

Kitchen Utensil and Tablet Holder by Heather and Myles Geyman
Heather and Myles Geyman have created this handy product that will store both your tablet and your kitchen utensils in one convenient place. Advertised as a modern cookbook stand, this product is handy for so many reasons.
First is the obvious, a place that will store your most used kitchen utensils. But it is also a place to keep your tablet out of the way, away from spillage, and within an arm's reach.
It allows for easy access to recipes, cooking shows, really anything on the web that you might need. What more could you want from one small appliance?
Classic Behind the Door Concealed Storage Cabinet by Cabidor
Last on our list of the top gifts for anyone who loves organizing is this behind-the-door concealed storage cabinet. We don't know why everyone doesn't own one of these, as it is a great way to add a lot of extra storage, without being bulky or extremely noticeable.
Forget cramming all of your pantry contents into small drawers, when you can add eight extra ones with this simple product, it's the perfect pantry organization hack. You could also attach this to your bathroom door to store all of your toiletries. Or even include this in your garage storage as one of the best ways to organize your garage. The opportunities are endless, and your organization lover will thank you for it!