Nielsen vs. InboxDollars: The Truth About Pay Survey Websites
Can you make money off paid surveys?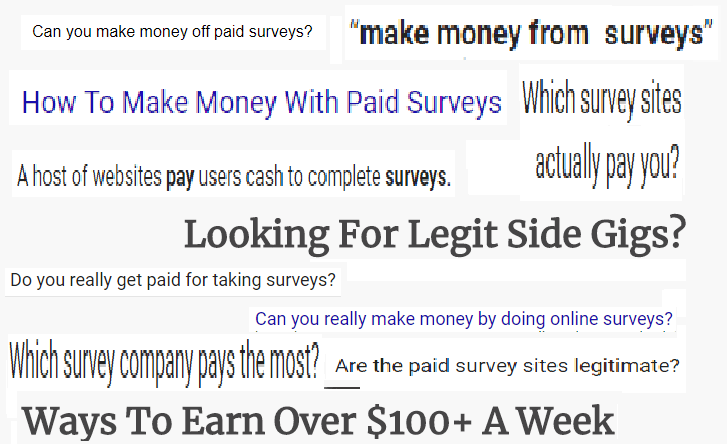 We have all seen advertisements that offer so-called "Side Gigs from Home," "Earn full-time income," "Make Up to $30 per Survey,'' "Make Money Taking Surveys," along with "Ways to Earn anywhere from $250 - $500 Without Leaving Home."
More than once, a lot of us have fallen victim to our own curiosity, and even taken that extra step of giving it a try, putting in the effort and finding out it is a complete waste of time, and that it is virtually impossible to make any money. We've all been there and done that, haven't we? Now I'm here to share my experience with two of these survey websites.
First, I want to talk about my experience on the website called InboxDollars. Like many others, this website promises you can make money fast and easy online from home.
After seeing a ton of advertisements I wanted to see what all the buzz was about, and I finally signed up for InboxDollars. When you sign up and get verified, you get an initial $5 bonus, which is great! They also give you the chance to answer surveys about your general demographic information such as your annual income, gender, and general preferences.
There are many different options as far as what you can do to earn more money. You can take surveys, watch videos, or paid emails. For the majority of the surveys, you will have to take a screener, and you will find out you do not qualify for a lot of them. The ones you do qualify for end up being time-consuming, and not exactly high paying surveys.
In fact, you actually have a minimum amount of money you need to have earned before you are able to cash out. In most cases, although these sites are legit, there is no way you will make even $100 a week. In my opinion, the only way to make some decent money off these sites is only if you have a lot of friends' referrals which quite honestly is what a lot of these websites are really designed to do.
But to finally get to the point: In my honest opinion, can you make money on this site? Yes. Can you make easy and fast income as advertised? Most definitely not. Is it worth your time? That's for you to decide, but I can tell you it definitely isn't worth mine.
Next, we've got Nielsen or Nielsen Holdings PLC. This company is a global information, data, and measurement company with headquarters in the U.K.. Nielsen operates in over 100 countries and it measures the popularity of radio stations, websites, and online videos. Basically, Nielsen pays you to allow them to anonymously collect information from your favorite web-surfing device, or you can keep a log on paper.
For the paper log, they send you a notebook with questions, instructions, and guidelines for the task. Once you are done, you mail it back to them, and they send you cash through the mail.
If you have a smartphone or tablet, they will pay you to keep a log of the times, and radio stations you listen to, and tv channels you watch. Nielsen will also pay you $50 a year to keep an app on your tablet or smartphone browser and to continue to use it normally while it collects information anonymously.
I personally did a couple of their surveys by mail, and payment per survey was anywhere between $5-$10 dollars. I also received cash payments through the mail. However, to get to the point, can you make money on this site? Yes. Can you make anywhere near $100 a week? In my opinion, No, not at all. Is it worth your time? Once again, that's for you to decide.